We have nearly come to the end of Season Three of my new favorite series, "The Expanse." I'm sure I'm not alone in saying every season has been more exciting than the last! The plot, which was a bit confusing in Season One, is really suspenseful and original, and the characters' varied personalities and motivations add a dimension of realism that is often lacking in the genre.
I honestly am counting down the days to the next episode, and I'm bummed that there are only three episodes left in this season.
Unfortunately, perhaps because the show took a while to hit its stride, it lost viewers and Syfy canceled the series on May 11. After news of the cancellation, fans began a campaign to save the show. Because Amazon already owned streaming rights for the show, it seemed like a good fit. The campaign included a petition that collected 150,000 signatures, and a GoFundMe page which collected money for a Save the Expanse banner to be flown over Amazon headquarters.
Some famous fans chimed in too. Rumor has it that Amazon's CEO, Jeff Bezos, even received an email from Game of Thrones creator George R. R. Martin, asking him to save "The Expanse."
The cast was recently at a conference for private space entrepreneurs, National Space Society's International Space Development Conference, doing a panel on the science of "The Expanse," when they heard the good news.
In an interview with Entertainment Weekly on Wednesday, Steven Strait (who plays Jim Holden) explained: "We were there, essentially, just talking about the technicalities of shooting a space show with realistic science, and it just so happened that Jeff Bezos was there. We had planned this trip months ago. It was a total coincidence."
Before dinner, Bezos told the cast he was a fan of the books and the show, and that he was trying to work something out to pick up the show. He emailed Jennifer Salke, the head of Amazon Studios, who had also been hearing great things about the show.
In an interview with Deadline, Salke said Bezos told her, "I'm at an event, a space seminar, I'm looking at the cast of 'The Expanse' here, I would like to get up there and order the show." Once she gave Bezos the green light, he announced it on stage.
Strait said "he announced it right then and there on stage. Just completely took us by surprise. Just crazy excitement. It was a roar from the back of this room. We were just all so tremendously relieved that this insane campaign had worked."
So are we. Here's to Season Four!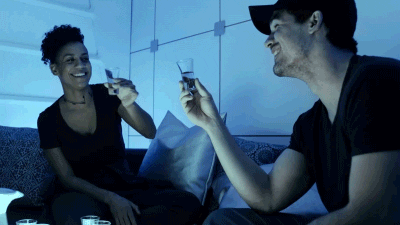 If you're not already a fan, you can catch up with "The Expanse" on Amazon (streaming), or on Netflix (DVD only).
Valhalla Renaissance Faire
While I was on vacation in South Lake Tahoe, I checked out the 25th annual Valhalla Renaissance Faire. I had never been to this particular Ren fair so I wasn't sure what to expect. I was pleasantly surprised at all they had to offer. While not as big as the fair in Irwindale, it was still a good-sized festival, in a beautiful location, and there was plenty to do, see, and buy.
There are about 800 costumed actors who bring the fair to life, and more than 100 vendors sold period attire and accessories, jewelry, swords, daggers, wands, and of course, food and drinks. Fairgoers could get their hair braided, play games, try their hand at archery, and be entertained by music, dancing, storytelling, puppet shows, jugglers, and – my personal favorite – a falconry show.
I highly recommend this fair if you're planning a trip to Tahoe next year. Go in costume, and bring the kids. The festival runs every year for two weekends in May and/or June. For more information, go to valhallafaire.com.
A beautiful owl was just one of the birds featured at the Full Circle Falconry show at the Valhalla Renaissance Faire in South Lake Tahoe. 
Photos: "The Expanse," Alcon Television Group; Valhalla Renaissance Faire photos by Earth to Shawna. 
Follow Earth to Shawna on Facebook:
https://www.facebook.com/Earth-to-Shawna-1476049362698628/?fref=ts